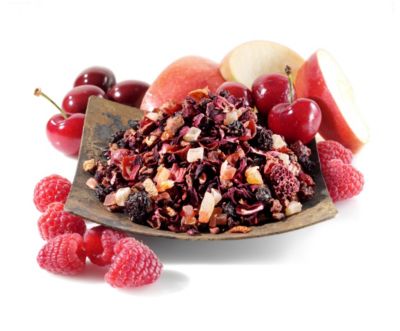 This is a wonderfully tart herbal tea from Teavana.  Initially, I was not going to try this tea since it has cherries in it, but the sales girl promised I would LOVE it.  She was right!
Although I am not a cherry fan, this tea is very fruity and reminds me of a wild cherry flavored Life-Saver.
I steeped this tea for over 10 minutes (I was doing laundry) in 212°F water using my Perfect Teamaker from Teavana.  I used 1.5 tsp of tea to 8 oz of water and added 1 tsp of German Rock Sugar.  The brewed tea is a bright red.
Teavana describes this tea as:
Taste summer year 'round in every bright and rejuvenating cup. Lusciously sweet and sour Morello cherries & tart raspberries lead the way, channeling impromptu sun-dipped picnics. Highlights of hibiscus soften and refresh while apple, pineapple and papaya play in a garden of quenching delight. SUPERFRUIT ENHANCED.  Bold infusion of mixed berries.
The ingredients include: Hibiscus, apple pieces, candied papaya pieces (papaya, sugar), candied pineapple pieces (pineapple, sugar), raisins, morello cherries, rosehip peels, raspberries, flavoring (passion fruit, raspberry, strawberry, black currant).  It is difficult to say which flavor is the most prominent since it is such a fruity blend, but I can taste the cherry for sure!  It starts sweet in your mouth, but definitely ends with a pucker.  I drank this tea hot, then it was bedtime so I chilled it overnight and it's just as tasty served cold.
A great tea served cold or hot.  A fruity blend that would be excellent with black tea.