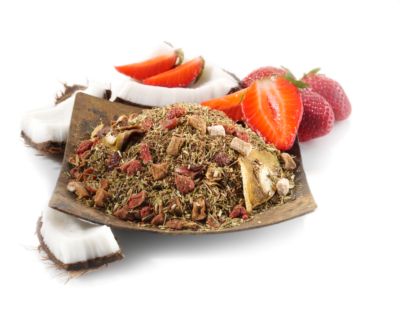 A tea with marshmallows is exactly what a person should drink to be on cloud 9. This blend is smooth and sweet and brews up a light red color. A hint of fruit mixed with a hint of cream as the marshmallows melt makes for a unique tea flavor. It has a wonderful aroma both in dry leaf form and in your tea cup.
Teavana describes this tea as:
A heavenly blend of citrus pieces and strawberries with green Rooibos and decadent tiny marshmallows. This tea will send you over the moon.

Note: Contains coconut.

Ingredients: Green Rooibos, apples, strawberries, rosehips, hibiscus, lemon peels and marshmallow bits. Contains gluten, gelatin and milk products.
The coconut is very under-toned and you taste just a hint but it is noticeable to a sensitive palate. This tea is a very decadent treat for any tea enthusiast. Rooibos teas are naturally  high in vitamins, minerals, and antioxidants. In addition, they may improve digestion, help with allergies, and reduce fine lines and wrinkles on your skin. This tea is naturally caffeine free, so enjoy being on Cloud 9 for a sweet little while.