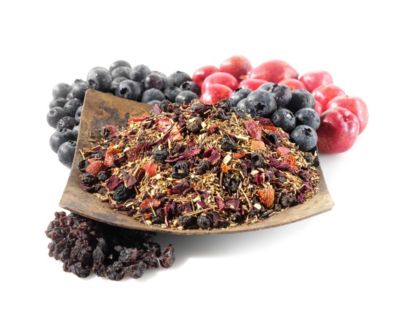 Blueberries are one of the best fruits out there! Sweet and tart and bite size they are perfect for munching all year long. So of course when put in a tea they are going to make a great cup! Plus is smells like blueberry pancakes or waffles, yummo!
Teavana describes this tea as:
The distinctive tart flavor of blueberries married to the fresh citrus taste of green Rooibos make this tea pure joy in a cup. It's also delicious mixed with other Rooibos or White Teas for a blended treat!

Ingredients: Green Rooibos, blueberries, grapes, rosehips, hibiscus, red beet root and black currants.
I tried this tea as is the first time, and it is a bit tart for me, very good but still on the tart side. I did mix it with a sweeter rooibos the next time but I felt like I was not getting enough of the blueberry taste. So my next trip to teavana store includes getting some of their German Rock Cane Sugar (These pure, unprocessed sugar crystals are the best way to help enhance the natural sweetness of your tea without changing the flavor. Just add them to the tea leaves as your tea steeps for the best flavor) to try and sweeten the blend. And guess what? It was amazing, it was blueberry and delicious and no longer too tart for me. I am so happy I can enjoy this amazing blend now!
---