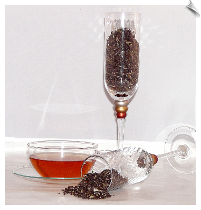 One thing I learned very early in my years of tea tasting is this:  when you find a tea that you truly love, be sure to never forget where to get more!  I learned this because the very first Darjeeling that I tried, I fell so in love with, but when it was gone, I somehow lost the tin that it came in, and did not remember the company that supplied that uncommonly good Darjeeling.
Since that time, I've been searching for a tea that would take the place of that extraordinary Darjeeling, and mind you, I have tasted quite a few exceptional Darjeeling Teas… but none have quite measured up to that first Darjeeling.  Some have come very close… so close, in fact, that I've thought that maybe they were just as good, and maybe I've just somehow undeservedly elevated that first Darjeeling onto a level so high that no Darjeeling could possibly match it – that my memory of the tea was better than the actual tea truly was.
And then, I tried this Darjeeling from KTeas.   And, oh… it is lovely… perhaps even more lovely than my memory of that first Darjeeling!  Yes, it is truly that good.
The color of the un-brewed tea is brown with green tips, which become deeply green with tips of brown when brewed, and produce a gorgeous coppery color liquor.  It is because of this green characteristic of the Darjeeling tea leaves that I refrain from bringing the brewing water to a full boil; instead, I bring it to a near, but not quite boiling temperature.  This seems to be just about right, delivering a tea that is full of flavor but without bitterness.
The fragrance of the brewed tea is extraordinarily pleasant:  notes of musk, spice, earth and floral tones are an absolute delight to the olfactory sense.  And the flavor is remarkable!  The muscatel in this tea presents itself immediately and lingers in the finish.  There is a piquant fruit note that is very delicate.  The tea is medium-bodied, fairly brisk, with a pleasantly light astringency.
KTeas describes this tea as
This exceptional Darjeeling first flush comes to us from beautiful secluded gardens at elevations above the clouds. Truly the champagne of teas, this Black Tea has the wonderful fruit undertones that are typical of high quality Darjeeling teas. This is a must for black tea or Darjeeling tea lovers.
This is a perfect afternoon tea that is best enjoyed hot.  I say that a lot… but, here's the thing:  tea tends to lose some of its complexity when it is chilled.  Of course, not all teas do; there are some exceptions, but the general rule is that you should chill a good tea but not an exceptional one.  And this truly is an exceptional tea.   No sweetener is needed for this tea, but if you choose to, use a light hand to sweeten so you do not overpower the cup.
Note to self: Do not forget where to buy this tea – it's far too good to not have on hand at all times.
---