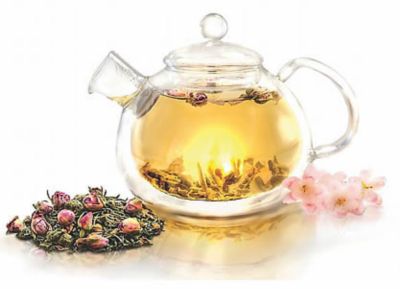 This is the first blooming tea that I've tried from Teavana, and after trying it, I don't think it's going to be my last.  It's really good!
The peach flavor of this tea is abundant – not nearly so delicate as most flavored White Teas that I've tasted.  Yet, with such a strong flavoring, the white tea manages to also touch the palate.
Sweet, juicy and so much like biting into a fuzzy, ripe peach – that is how I would describe the peach flavor here.  It tastes just like summer to me.
The white tea, on the other hand, is light-bodied and fresh-tasting, although, it is not quite as light-bodied as a typical white tea.  I think I would attribute this to the fact that you do steep it a little longer than you might steep a typical white tea, so that the tea fully blossoms. However, you needn't worry about the tea growing bitter as it steeps.  I cannot detect even a hint of bitterness.  Just a fresh, clean taste – light and vibrant, and virtually no astringency to the cup.
Teavana describes this tea as
This hand-tied, peach scented artisan tea is composed of delicate white tea leaves and blooms beautifully into a chrysanthemum and jasmine laden bouquet upon steeping. Not only is the tea delicious, it is a wonderful process to watch! Good for multiple infusions.
This tea is truly delightful to watch unfurl, and actually does open up faster than the other blooming teas I've brewed in the past.  It reveals a big, beautiful white chrysanthemum, and a sprig of five jasmine blossoms that reach the very top the surface of the water.
Note:  I found this you tube video that features the Peach Momotaro in action!
httpv://www.youtube.com/watch?v=1pxd0Ez1v5U
But even more importantly, this tea is so drinkable!  It tastes so good that I finished the cup before I had realized it.  Definitely one of the best blooming teas I've tried.
---